Scuffles have broken out in South Africa's parliament between the radical opposition Economic Freedom Fighters (EFF) and other opposition parties after lawmakers exchanged slurs during a question and answer session with the president.
MP Agang Andries Tlouamma started the exchange of words when he insulted a member of the EFF using an expletive.
Prior to the open fist fight the Democratic Alliance's (DA) Chief Whip, John Steenhuisen, called EFF members "VBS looters" referring to alleged theft of money from the VBS bank.
EFF MPs reacted by calling him a "white racist". A brawl then ensued.
Videos of the exchange of words and the brawl have been shared on Twitter:
Social embed from twitter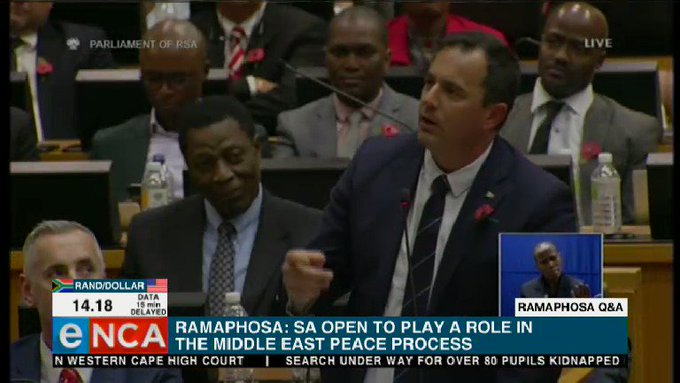 WATCH: EFF's Julius Malema and Mbuyiseni Ndlozi confront DA's John Steenhuisen in Parliament. #eNCANow Cou
ReportReport this social embed, make a complaint
Social embed from twitter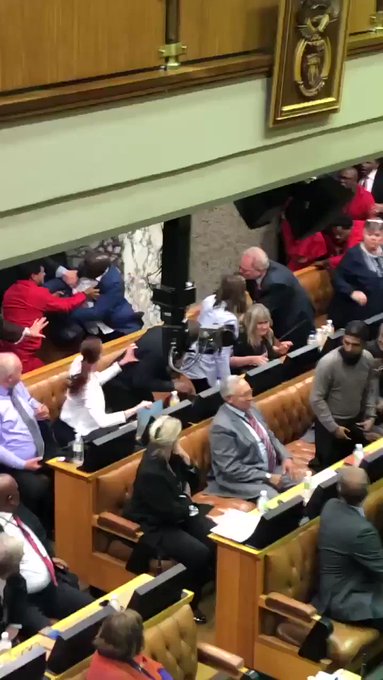 Annika Larsen@AnnikaLarsen1

This fight escalated from insults to a bottle being thrown and then pulling and tugging. Started with Agang MP Tlouamma saying whites should be allowed to speak in House. Hard to tell what happened next #RamaphosaQandA
ReportReport this social embed, make a complaint
The house chairperson in parliament Thoko Didiza pleaded with the lawmakers to be orderly.
"None of us have the right to insult each other… Honourable members can you please allow me to run the house", a visibly angry Ms Didiza said.
President Ramaphosa was forced to take his seat as Ms Didiza suspended proceedings and called the sergeant of arms to stop the physical fights.
Proceedings later resumed with the president answering questions again but not before Ms Didiza ordered two opposition MPs to be removed from the house.
President Ramaphosa pleaded with the MPs to stop the race-based fights.
"We cannot go back to that horrible past that we have had… We are a non-racial democracy. However painful it may be. We cannot go back to that racism. We are one people," Mr Ramaphosa said.
Source: BBC