A naked lady who was bound by hand and feet like a turkey laid uncovered on a dining table surrounded by other variety of dishes.
The lady who appears to be a porn star known as Real KKVSH or as "That s3xy tongue girl", had her skin applied with oil to make it lustrous.
She also had fruits placed strategically on her body and this made her seem like a decorated turkey ready to be eaten.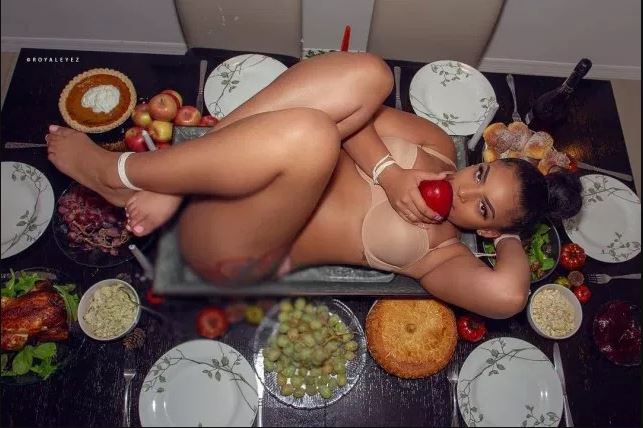 Surrounding her on the dinner table were bowls of food, wine, fruits, candles, plates and more as is the typical custom for Thanksgiving dinner.
Thanksgiving is a national holiday in the United States celebrated on the fourth Thursday of November of every year.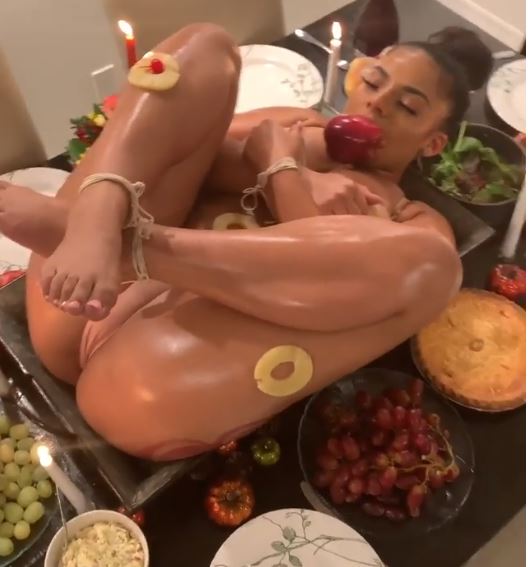 She posted a video of herself all covered up like a turkey on a dinner table for Thanksgiving celebration.
The porn star captioned the video: "Thanksgiving Dinner has been served @pompano_randy ?? I'm a turkey today."
Watch the video below…
Well, only porn stars as sensible human beings will be laid naked on dinner tables to serve as Thanksgiving Turkey.
Source ghpage.com