Research Advocacy Channel (RAC) is a non – governmental organization which is into Research and Advocacy. They are giving opportunities to the youth (students) to further their education in reputable universities both locally and internationally and achieve higher academic excellence through a program tagged RAC AWARD.
RAC AWARD is a reading program that is meant to appreciate readers of a newspaper called Research Newspaper. The objective of RAC AWARD is igniting the culture of reading among the youth in Africa.
Through the reading of the Research Newspaper, they hope to educate the youth about current research findings in the country, educate and inform the youth about global and local challenges and enhance their coping capacity, adaptation strategies and prepare them for future prospects.
By participating in their reading program, they also wish to prepare the youth for future leadership positions both locally and internationally, educate them on cutting-edge technologies and how to use them for their personal development.
RAC basically hopes to raise great entrepreneurs and astute businessmen through critical thinking and analysis as a result of increased knowledge from reading the Research Newspaper editions.
Nominations are opened for entry into the RAC AWARD and scholarship program. The good news here is, you do not need to have a specific GPA or academic requirement.This is because the RAC awards scheme is a Read and Win contest with the aim of promoting the culture of reading among the youth.
You can qualify for the scholarship and the award program, based on your score after the test which is held online. Know what else makes this better? It's free. No entry level fees.
Eligibility:
• All students and the youth in Ghana are eligible.
• All other Africans can equally apply.
• The scholarship packages are for those who have gained admission into an academic institution or are yet to apply for admission.
• Tertiary (University and Polytechnic) students are eligible to apply.
• Those reading certificate courses and other diploma programs can equally apply. Scholarship packages, however, do not include doctorate programs.
So, first of all, submit a one-page motivation letter which should include your NAME, AGE, PROGRAM OF STUDY, LEVEL, and TELEPHONE NUMBER to research4channel@gmail.com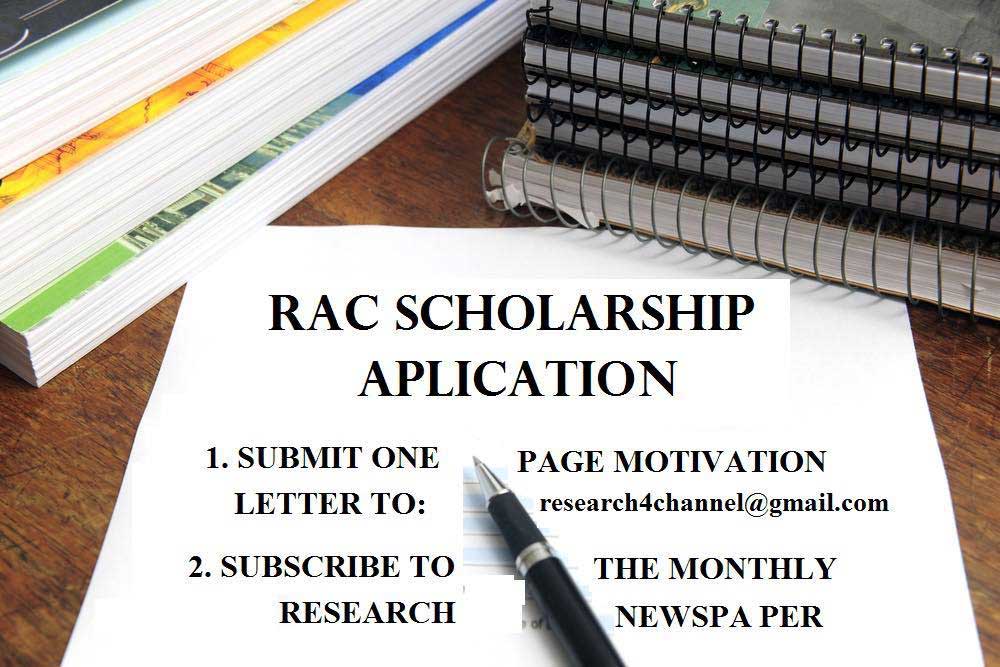 After, you need to prepare for the online test by subscribing to the monthly research newspaper. Note that the online test will be based on this research newspaper which will be delivered to you in either hardcopy or softcopy.
The online exam date is at the end of every three months (MARCH, JUNE, SEPTEMBER, and DECEMBER). Applicants will have to select one of the months.
SELECTION CRITERIA
1. GOLD EXAMS 2. DIAMOND EXAMS 3. SILVER AWARD
1. GOLD EXAMS. Gold exam is an online test for all applicants. Applicants will take an objective test (online) and those who will score above average qualify for the RAC scholarship and award. Certificates and other prizes are awarded.
2. DIAMOND EXAMS. Diamond exam is a quiz that is organized periodically to engage participants who scored below average in the gold exams. It is a televised event that has a social media presence. The winners qualify for RAC scholarship and award.
3. SILVER AWARD. Silver awards are prices for participants who scored below average in the diamond exam.
All you have to do is, read and take the online test. For further details, call the office line on +233(0) 208 634272/233 24 1716703. Visit our website, (WWW.RACGLOBAL.ORG).