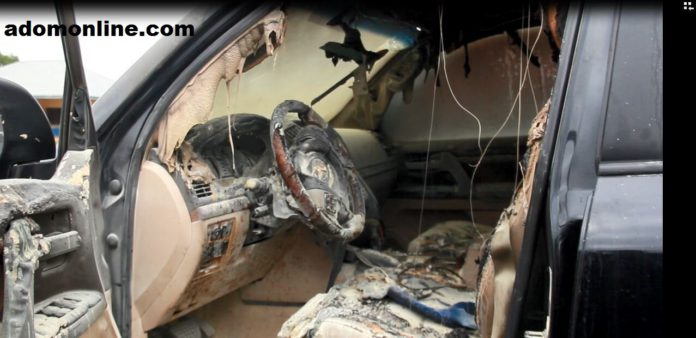 The accounts of two men considered key eye-witnesses in the gruesome murder of the Ashanti King's close relative, have been described key in resolving the crime.
A farmer and a Reverend Minister claimed they foiled attempts by the unknown culprits to bury and conceal every trace of evidence by quenching the fire set to the late chief's vehicle, in an apparent attempt to the body of the Asamponghene, Nana Kwadwo Afoduo.
The 46-year-old chief was said to be a direct relative of the Asantehene, Otumfuo Osei Tutu II.
The two individuals came in handy for police investigators by helping, for instance, to retrieve the late chief's mobile phone which has proved critical.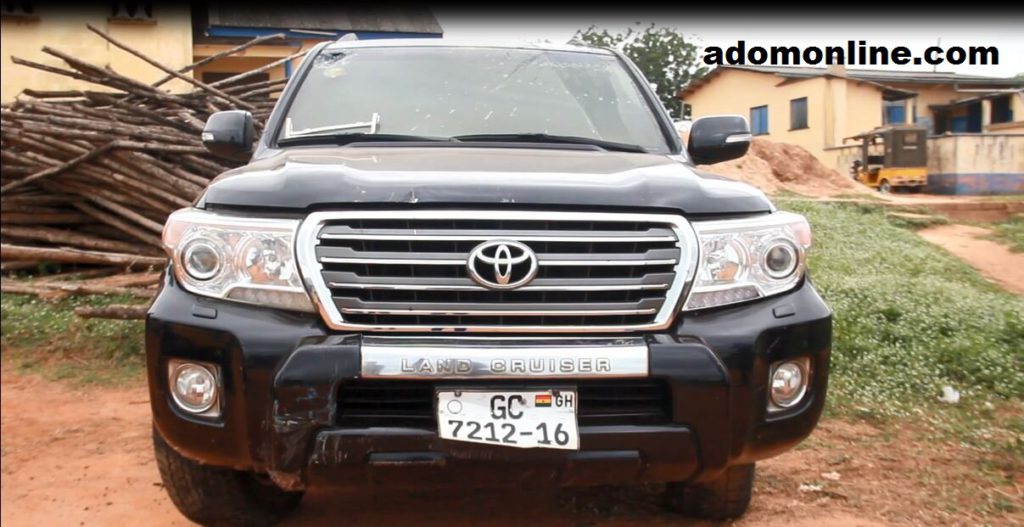 ALSO: BOSOMTWE DCE CUTS SOD FOR THE CONSTRUCTIION OF A CHIP COMPOUND AT AKOKOFE
Police say the communication device contains vital information useful for further investigations.
The farmer's farm is located a few meters from a spot where the late chief's attackers attempted to abandon and set his body and vehicle ablaze.
What appeared to be obstruction by the farmer forced the alleged killers to drive off about 400 meters away on the Ejura-Nkoranza Road to execute their plan.
"I was on the farm when I saw this vehicle crashing into a rock by the roadside. I rushed to the scene to offer support but while I was approaching, the vehicle sped off. Later I heard reports this same car was on fire so I rushed there only to see the body of a man at the backseat of the car,"  he told Nhira FM's Ohemeng Tawiah in Twi.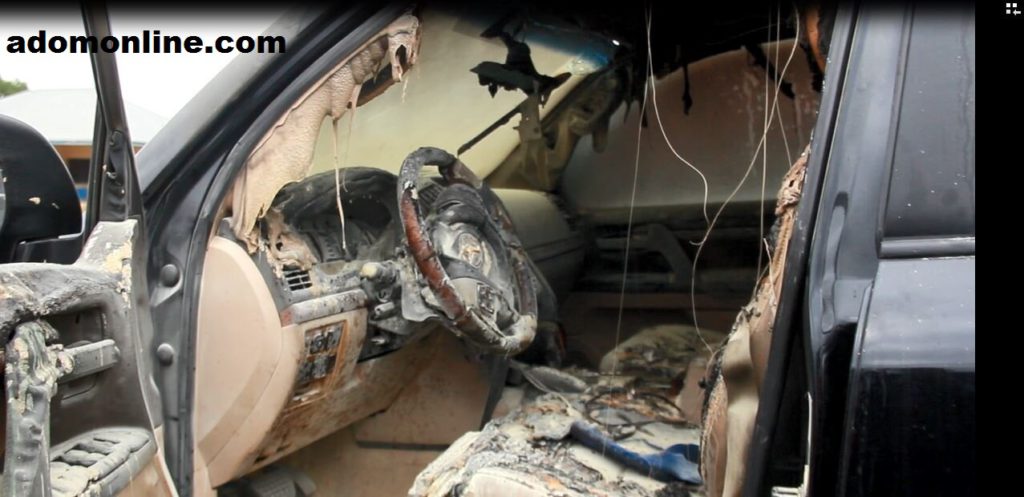 ALSO: There Is No Label In Ghana, I Can Work With – Feli Nuna

A Christian preacher, Bismark Agyemang, (not his real name), said he was returning from a prayer meeting with some church members when they came across the incident.
"We saw that this Land Cruiser was on fire so I stopped and other vehicles too stopped. I brought out my fire extinguisher and they brought theirs so we managed to put the fire off. Somebody opened the backseat and we saw somebody dead and I said wow!"
ALSO: Facebook Malam Nealy Lynch For Befooling His Client For An Amount Of Ghs600 (Video)
"I quickly took a car and went straight to Ashiemu, which is a village nearby and reported to the police there and there was even a phone and I gave it to the police," the Man of God recounted.
Police say that intervention proved decisive as the mobile phone of the late chief was also found at the scene.
Source: adomonline