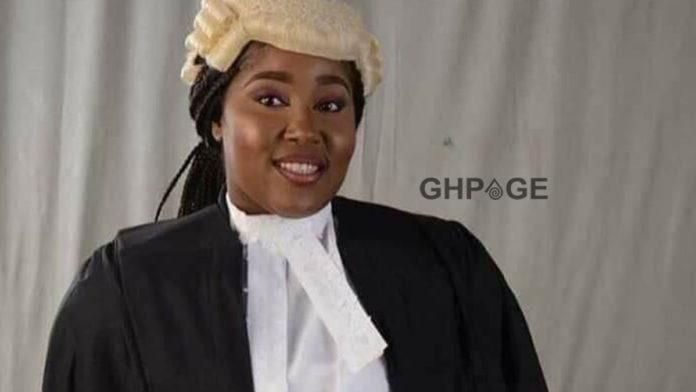 A beautiful Nigerian lawyer with the name, Barrister Enobong Akpabio has died and was buried yesterday 20th August 2019 in Uyo.
According to reports circulating on social media, Barrister Enobong Akpabio went for liposuction at a popular clinic in Nigeria to do a fat transfer.
The report claims that the doctor who is famous in Nigeria performed 3 different surgeries on her in one day. Meanwhile, oxygen machine which could have helped her breath and survived had spoilt.
SEE ALSO: Facebook slay king arrested for stealing flat screen TV from a hotel (Photos)
At the end of the day, Barrister Enobong Akpabio died and her friends have been mourning her on social media. Despite being beautiful, friends revealed she was constantly being mocked for being chubby.
Unbale to stand the pressure, she decided to do liposuction to please people who were mocking and teasing her. Sadly, she didn't survive.
Sharing the news in a popular all-female group on social media, a friend of Barrister Enobong Akpabio wrote:
Dear Yummies,
READ THIS Church of Pentecost Apostle donates entire retirement package
I don't know who needs to hear this but you as a chubby person owe no one, not even yourself a flat tummy, figure 8 is not only the shape available, even in products there are sizes, you are MAXI, they are minimum yes that is their size and none of your business, do not ever, ever let the name-calling, the unsolicited advice get to you.
We lost a Sister because it got to her, she is not even that fat, yet those friends must have taunted her so much that she was scarred, her dignity stripped, please, dump those friends that make fun of your size, ditch that boyfriend that is always putting you down. Own your chubby, because you are more!
SEE THIS Bosomtwe DCE Donates Food Items to Muslim Community
Rest in Peace Eno
#justiceforEno
#shewasjustchubby
SEE ALSO: Castro is dead – Prophet who prophesied his disappearance confirms
May she rest in perfect peace.