Two siblings have suffered rejection from family and society purposely because they possess blue sharp eyes that are peculiar to them.
According to the story shared on Facebook by a concerned user, these two girls who are between the ages of 8 and 10 have suffered rejection simply because they have blue sharp piercing eyes.
Per the narration by Alabi Rukayat Oyindamola on Facebook, these girls, Kaosara and Hassanat, were found on the streets of Illorin in the Kwara Stae of Nigeria loitering about because everyone shuns their company.
A post she shared on Facebook reads:
"Hello! I traveled to ilorin this Eid period and I saw this small girl she lives around my house(ilorin). Her name is Kaosara she is 8year of age she is an indegen, she also have a junior sister Hassanat(kehinde) her taiwo is late due to lack of proper care and and rejection from the father because she has special qualities(her blue eyes). Her mother's name is Risiqot."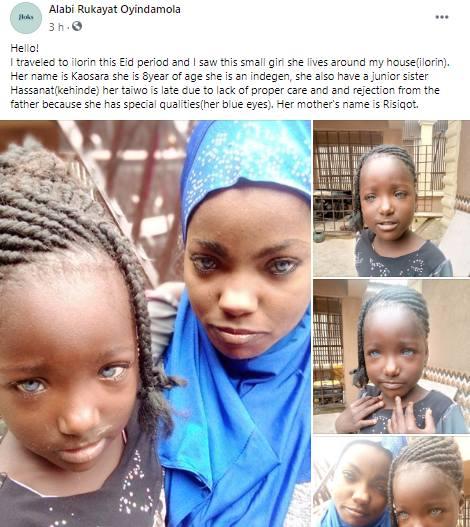 Check Out Photos Below: