Hundreds of Affected customers of Collapsed Banks and Savings and Loans companies say their lives have been tumbled-down following government's rejection of their petition to retrieve their locked-up funds.
They further threatened to vote against Nana Addo Dankwa Akufo Addo and his New Patriotic Party government if their monies are not recovered before December.
Clad in Red and fueled with distress, the misery traders took to the streets of Kumasi to protest against the bizarre Ghanaian economy, which has thoroughly ruined their homes and crumbled their place of work.
Addressing their grievances, the unhappy customers of First Allied Savings and Loans, Noble Dream, and other collapsed Banks echoed the reason for their agitation.
According to Pastor Hayford, an affected customer, the government once assured to pay their monies some time and were expecting the promise to be fulfilled yet news circulating the country indicated that 98 percent of affected clients have had their funds retrieved which is contrary to what is on the ground, therefore, the demonstration is to convey a message to alert the president on the reality.
"We are customers of first allied savings and loans. We know for sure that it was the Bank of Ghana that gave license to the First Allied to operate therefore any misfortunes that arise must be resolved by the mother Bank," he spoke.
"We were promised that our investment would be paid following the collapse of the bank. The majority of us have received no money yet reports suggest that 98 percent of traders have had their funds restored to them. There is no truth in that. If nana is indeed the father of the nation, he should attend to our pleas. Nana should pay our money else, we will not vote if our monies are not paid by December."
Madam Mary Safia, who has lost her marriage and have the life of her children under siege sadly, disclosed that government has failed traders, especially in the Ashanti Region narrating that "My husband gave me an amount of 100,000 cedis to take care of the tertiary education of my two children.
"Last year my child gained admission and there was no money to buy forms due to the windup of First Allied so they stayed home. My husband is no more working and as a result of the trouble created by the bank, I have been accused of messing up the home. I have lost my marriage and have been demanded to leave the house. I almost posisoned myself because my home is now in ruins. I cry all day praying for the fund to be restored to return back to my marriage."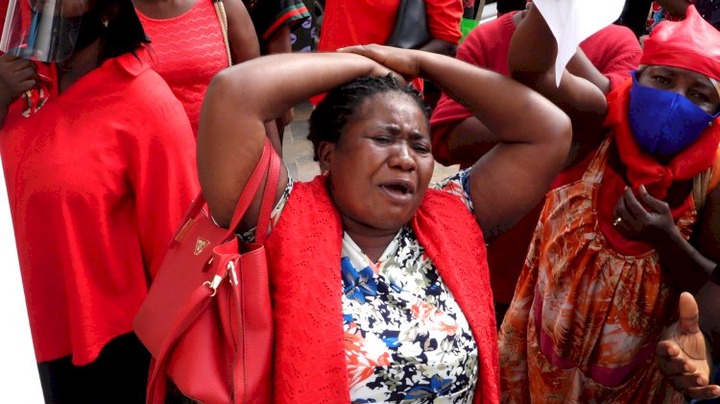 Maame Akosua Pokuah of Central market, a widow and an affected customer revealed how her family has been wrecked by the economic hit on banks. Clad in tears, the woman mourned on the consequence that awaits her children's tertiary education if the government does not help to resolve the financial problem they are going through.
"I am a widow. Trade has been my support in caring for my family. I did not choose to take loan to run my business. I was a regular saver at First Allied until a time where I decided to withdraw money to take care of business. I was informed that there was shortage of funds so I should exercise patience. Until now things have been different.
"My daughter will be progressing to level 300 and I'm supposed to pay 2600. Where do I get the money? I am pleading to the government to retrieve our savings. If he is indeed meant to comfort women and empower their business, then this is the time, else we ll die. We are dying of misery and if Nana Addo does not come into our situation, our hope is lost."
Stories told were worrying as Maame Akua Yeboah disclosed the torments she is enduring after losing 100,000 contributions meant for traders.
"We are a group of NPP women traders that came together to contribute and loan for the effectiveness of our business. I am the leader and decided to save the money at first allied until the due time for the receiver to have hers. Within a period of one month, the amount of 1. Billion was locked up.
"We heard the monies have been paid and the women think that I have taken the money without their notice. I have developed a swollen in my heart due to this. Nana should intervene and save our lives," Maame Akua Yeboah added.
The group peacefully protested in front of the First Allied Savings and Loans Bank at Adum before walking towards the Kumasi Metropolitan Assembly route to register their dismay.
They cautioned government to do his checks on the financial sector before things fall apart.