The body of a two-year-old girl has been retrieved in the rubble of the church building that collapsed in Akyem Batabi in the Eastern Region.
She was among the 22 fatalities.
"We discovered a body, the body of a baby girl who is estimated to be about two years old," the Director for Inspectorate Division at the National Disaster Management Organisation (NADMO), Richard Amo-Yartey, told the media on Friday, October 23, 2020.
Two vehicles that had been crashed were also retrieved as the rescue efforts entered the fourth day.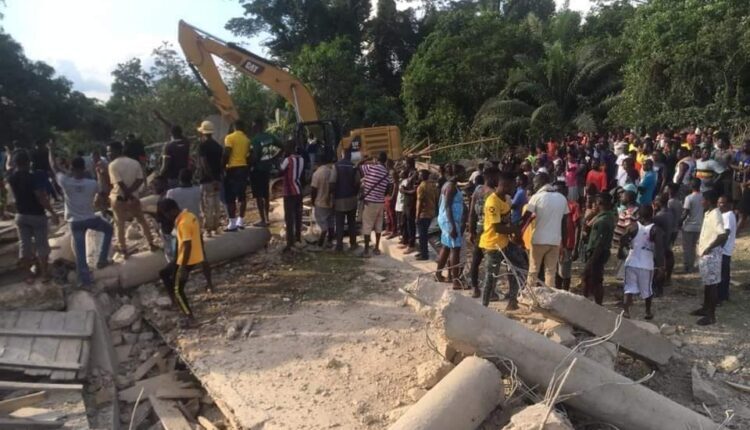 The rescue team has planned to embark on a 24-hour search for more persons until the last body is retrieved.
"We have introduced lighting systems. We have brought light from Accra to augment the lighting system around to ensure that we are able to work throughout the night to be able to scavage all the rubble at the place.
"It is only when we are done with that we will be able to say we have completed with the search and there are no bodies. We are going to search everywhere," Mr. Amo-Yartey assured.
Victims were resting after fasting and prayers
Earlier reports suggested that about 60 bodies had been trapped in the debris, but in an interview with Accra-based Starr FM, Operations manager at NADMO, Alfred Owiredu Agyemang said the number was 31 persons.
"We have recovered 22 bodies and rescued 8 persons, bringing the total to 30. But were are looking for a lady who is in her 30s. She is the mother of the retrieved baby. We've been to the Oda government hospital but she is not there. So we are currently going on with our search and rescue mission for that missing body.
"Per the information given to us by the church administrators, she is the only person left," Mr. Owiredu Agyemang said in the interview monitored by theghanareport.com.
He also indicated that there were no church activities happening in the building at the time of the collapse.
"They had the church activity in a garden so it was when they closed and people decided to come and rest. Most of the victims came to the basement. They were fasting so they decided to come and rest. But the actual church activity took place in the garden. It was those who decided to go and rest who got trapped in there. Most of them were able to escape," he added.